August 31, 2020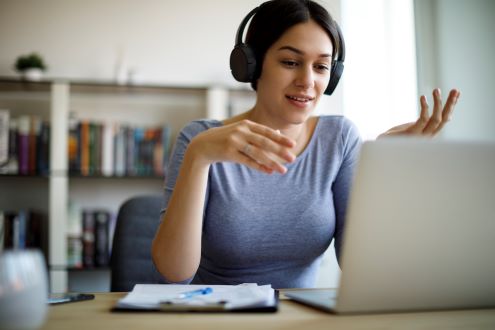 As the school year begins, the effects of the COVID-19 pandemic has left teachers, parents and students exhausted and weary. Yet, most kids (and parents!) are eager for school to start, and every teacher I've had the privilege to speak with wears their superhero cape and mentions wanting to be there for their students to deliver the best possible learning.
Well, I want to be there for you, too, and urge you to take care of yourself because, if you want to give your best, you need to be at your best. Plus, you can model self-care for your students.
Here are five tips for you to better balance work and life this year.
1. Plan for fully online and then flex as needed.
Many have opted to begin the year fully online, while others have set upon a hybrid model. Whatever your district decides, plan to deliver instruction completely online.

It may seem like a lot more work to plan for a scenario that you might not encounter, but if you stay in a hybrid model, then you have more time to work with students on learning gaps, addressing questions and building community. If you switch mid-way through the term, or synchronous sessions run into technical difficulties, you have done the work already. Use this free online planner to get started.
2. Less is more, and simple is best.
Whether teaching online or hybrid, focus on the musts and keep things simple by focusing on the learning objectives. Be willing to sacrifice quantity for quality. Your bitmoji classroom not done yet? No worries! It is far more important to get everyone used to the model you are using. The bitmoji can come later when you're in the groove and want to level up. Consider these evidence-based tips to help you design quality materials.
3. Choose technology that supports you.
So often when we speak of edtech, we think of apps for learners: Which app will engage them? What can help them accomplish their learning goals? Soon we're overwhelmed with options and so are our students.
To keep your balance, use a few select tools consistently and routinely; add in more tools only as you need them. Don't forget, though, technology can take a load off you as well. Use a digital classroom planner that lets you move things around if you need to (or to share the load; see next point). Keep track of students who ask questions or need support using one of many student tracker apps. Make the tech work for you!
4. Share the load with other teachers.
Reach out to other teachers in your school or grade level and split the load. Collaborate on lesson plans or share templates (using digital plans make this simpler). Be mindful of your learning objectives as you use ready resources, even if they are prepared by teachers. This is where planning can help you identify the exact resource you need. But don't forget! It #TakesAVillage to support students' learning. Share your objectives and specific instructions with parents so they can support you as the need arises.
5. Set boundaries and model self-care.
Last but not in the least, online or remote learning need not mean you're on call all the time. Set and communicate your time, your channels and days of availability (e.g., office hours, M-F, 8 a.m. to 3 p.m. via SeeSaw or email). Use auto responses like this savvy teacher to respond to FAQs. Walk through assignments with video or synchronous sessions. Model self-care for your students because your emotional state can impact theirs and you can serve as an example as well.
Looking for ways to move beyond a basic understanding of how tools work to apply research-based principles for effective online learning? Check out the ISTE's Online Teaching Bundle that educators are raving about.
---
Dr. Kripa Sundar (NarayanKripa Sundararajan, Ph.D.) is an independent consultant, researcher and parent working to spread the love of learning. Her portfolio includes professional development, speaking, course authoring, and program design. She is currently most excited about her upcoming resource hub for adults to support kids' learning called Learning Incognito and her book How do I learn? for young kids to learn and explore how they learn, every day.