June 19, 2019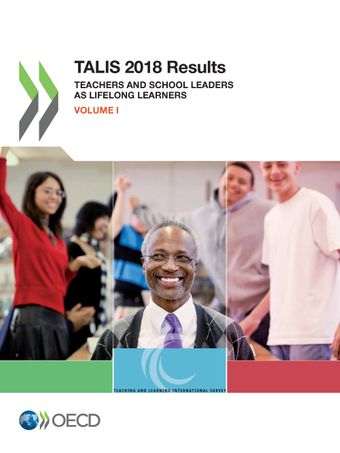 WASHINGTON, DC - Findings from the Teaching and Learning International Survey, coordinated by the Organization for Economic Cooperation and Development (OECD), released today show that preparing teachers to effectively use technology for learning remains a challenge for countries around the world.
In the U.S., only 45% of teachers stated that they were "well prepared" or "very well prepared" for the use of information and communication technology for teaching, the lowest rating of all dimensions ranked. In European countries, England ranked highest with 50% of teachers stating there were "well" or "very well" prepared and Finland ranked the lowest with only 21% of teachers feeling prepared. Even in Brazil, which ranked above average, only 64% of teachers said they were prepared. The OECD country average was 43%.
"Although significant work has been done globally to connect classrooms to the internet and provide schools with affordable devices, the report highlights the disconnect between providing access and preparing teachers to use these new tools to improve teaching and empower learners," said International Society for Technology in Education (ISTE) CEO Richard Culatta, who was on a panel hosted by Education Fast Forward and OECD to discuss the results of the survey.
"If this were another industry, we'd be outraged," Culatta said. "Imagine if more than half of pilots said they felt unprepared to use their navigating equipment. We have more work to do."
ISTE views two key issues that drive these numbers.
The first is the critical need to prepare teachers to rethink and redesign learning experiences that allow students to create, collaborate and design. The tech training available has mainly been tool specific, giving schools and educators limited options. More tool-agnostic professional learning and certifications like the ISTE Certification, which is based on the ISTE Standards, need to be adopted globally to give educators the ability to improve their skills in this area.
The second is to modernize educator preparation. Globally, teacher training programs need to embed digital learning best practices into general education coursework so educators are skilled at using technology for learning in active and engaging ways.
ISTE urges education leaders to recognize the importance of providing teacher training, not just handing out devices. We cannot hope to prepare students for their future if we are not preparing teachers to be effective in an increasingly digital world.
As this report is released, ISTE is preparing to bring together educators from 75 countries for the largest global education innovation event, the annual ISTE Conference & Expo, June 23-26 in Philadelphia, Pennsylvania.
###
About ISTE
The International Society for Technology in Education (ISTE) is a nonprofit organization that works with the global education community to accelerate the use of technology to solve tough problems and inspire innovation. Our worldwide network believes in the potential technology holds to transform teaching and learning.
ISTE sets a bold vision for education transformation through the ISTE Standards, a framework for students, educators, administrators, coaches and computer science educators to rethink education and create innovative learning environments. ISTE hosts the annual ISTE Conference & Expo, one of the world's most influential edtech events. The organization's professional learning offerings include online courses, professional networks, year-round academies, peer-reviewed journals and other publications. ISTE is also the leading publisher of books focused on technology in education. For more information or to become an ISTE member, visit iste.org. Subscribe to ISTE's YouTube channel and connect with ISTE on Twitter, Facebook and LinkedIn.