May 21, 2019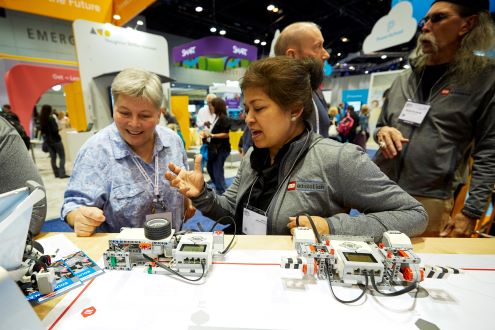 The ISTE19 Expo Hall will bring together more than 550 education companies in the Pennsylvania Convention Center in Philadelphia this year. Connecting with exhibitors and exploring the expo hall is a great way to add a little something extra to your ISTE learning experience. You can also find some great "swag" and other resources at the exhibitor booths.

Here are some tips to help you make the most of your time in the expo hall.
Visit the Explore the Expo Hall page before your arrive.
You can search for specific exhibitors or peruse the alphabetical list. Click on each exhibitor to learn a bit more.Also review the interactive floorplan so you can map your route in advance. Exhibitors are placed into 28 categories. For example, you can choose "AR/VR" in the category dropdown menu and see a list of all the exhibitors connected to this category.
Make a plan.
While it is OK to wander and explore, make a list of interesting exhibitors ahead of time so you'll make sure to visit those you're most curious about. I always add my list to a Google Keep Note because I can update it on my Chromebook and my phone. (See below.)

Commit to learning about something new.
You don't have to race past booths that are not on your list. Challenge yourself to slow down and discover other awesome resources and companies that you aren't familiar with. I do this as I work my way through my initial exhibitor list.

Don't just stop for the swag and run.
Take a moment to have a conversation with some of the exhibitors who you are curious about. Many of them were teachers before moving into their new roles. Connections with these people can often have a bigger impact than just connecting with the resource alone.

Connect with the exhibitors via social media.
A shoutout on social media with the conference hashtag is another great way to make new connections. Follow the #ISTE19 hashtag on Twitter to get a sense of which exhibitors are active on social media. If you have a great experience at a booth, be sure to thank them on Twitter. Tag them (@ . . . ) and use the hashtag #ISTE19.

Attend expo hall sessions.
Many of the exhibitors also host mini-sessions led by some great educators. These small group gatherings are a great way to meet some incredible educators face to face. Learn about these sessions by visiting the booths or exploring the #ISTE19 hashtag.

Go to social events.
Exhibitors often host social events and the best way to get invited is to stop and talk to the staff at the booths. I am already excited about the ISTE Speakeasy and EdTech Karaoke this year.
If you're curious about my list, here it is in alphabetical order with a description of each vendor from the expo pages:

Amplified IT (Booth 2158) - Amplified IT is a 100% education-focused consultancy that has established core services and technical products to assist school districts in accomplishing their G Suite initiatives.

Amplify (Booth 534) - Amplify is leading the way in next-generation curriculum and formative assessment. All of our programs provide teachers with powerful tools that help them understand and respond to the needs of their students.

All Things Media (Booth 130) - ATM is showcasing a proprietary multi-user VR and AR platform allows students and instructors to simultaneously interact and manipulate content inside a fully immersive 360-degree environment.

Bitsbox (Booth 1734 and Booth 1859) - Bitsbox combines hundreds of printed projects with a simple online coding environment where kids type, read code. and build apps that work on any device.

Bulb (Booth 2152) - Bulb is a simple, beautiful tool designed for students and educators of any level to curate, create, share and showcase their work throughout the semester, the year, and over a lifetime on any device.

Buncee (Booth 947) - Buncee is a web-based creation and presentation tool designed to help students become self-directed producers. Using Buncee, students can easily build multimedia projects and digital stories to showcase their learning.

Classcraft (Booth 713) - Classcraft is a platform that transforms any classroom into an adventure. Acting as a gamification layer around any existing curriculum, the game revolutionizes the way a class is experienced throughout the school year.

ClassTag (Booth 1456) - ClassTag is the only app that transforms how you connect with parents, saves time on communication & brings in free supplies.

Clever (Booth 2838) - Clever powers technology in the classroom. We give software applications a platform to easily connect with schools and give districts a central location to manage all of their learning resources.

CodeMonkey Studios (Booth 240) - CodeMonkey is a game-based platform that teaches students 8 years and up real code through a variety of puzzles where students need to help a monkey collect bananas.

Common Sense Education (Booth 523) - Common Sense Education supports K-12 schools with free, timely, and research-based tools that take the guesswork out of teaching in the digital age.

Edgenuity (Booth 732) - Edgenuity provides online and blended learning solutions for grades K-12 that propel student success, empower teachers, and enable schools to meet their academic goals.

Edmentum (Booth 2914) - Founded in innovation, Edmentum's powerful learning solutions blend technology with individual teaching approaches.

ExploreLearning (Booth 1553) - ExploreLearning develops online solutions to improve student learning in math and science. ExploreLearning Gizmos are the world's largest library of interactive, online simulations for math and science in grades 3-12. ExploreLearning Reflex (www.reflexmath.com) is the most powerful solution available for math fact fluency.

Flipgrid (Booth 2346) - Flipgrid is the leading video discussion platform for millions of PreK to PhD students around the world. We believe in the power of student voice, social learning, and having fun. 2017 EdTechDigest Cool Tool, 2017 AASL Best Website + Best App.

Future Ready Schools (Booth 1734) - Future Ready Schools® (FRS) network provides district and school leaders with free research-based tools and activities to maximize the effective use of technology for equitable student-centered learning outcomes.

Girls Who Code (Booth 115) - Girls Who Code was founded with a single mission: to close the gender gap in technology by teaching girls how to code and become change agents in their communities. Girls Who Code has gone from 20 girls in New York to 40,000 girls in 50 states.

Google (Booth 2200) - Google for Education is a solution built for learning and designed for the classroom that includes easy-to-manage affordable devices like Chromebooks, a "mission control" for class through Google Classroom, a powerful suite of productivity tools with G Suite for Education, and new ways to engage students like Google Expeditions.

Kahoot EDU (Booth 1300) - Kahoot! is a game-based learning platform and one of the world's fastest-growing learning brands with millions of monthly active users in over 180 countries.

Learning.com (Booth 64) - Learning.com helps students, teachers, and schools excel in a digital world. We provide solutions to support educators as they build students' digital literacy skills and transition to digital content.

littleBits (Booth 950) - littleBits makes technology kits that are fun, easy-to-use, and infinitely creative. The kits are composed of electronic building blocks that are color-coded, magnetic, and make technology simple and fun. Designed with educators, the littleBits curriculum is rigorous and engaging, allowing students to develop their creative confidence through hands-on learning.

Makey Makey (Booth 1613) - Makey Makey is an invention kit for the 21st century. Turn everyday objects into touch pads and combine them with the internet.

MaxCases/EdTechTeam (Booth 1722) - Max Interactive Inc. designs protective cases for Chromebook, iPad and other technology devices. EdTechTeam is a global network of former teachers turned educational technologists dedicated to inspiring and empowering educators.

Newseum (Booth 217) - Unlock a deeper understanding of free expression and First Amendment freedoms in the Newseum's 30+ exhibits and theaters. Online, visit NewseumED.org for free primary sources, videos, and lessons on history, civics, and media literacy. Curated resources on civil rights and woman suffrage movements, elections and civil liberties vs. public good.

Pear Deck (Booth 906) - Start engaging your entire classroom with Pear Deck! Created by educators, Pear Deck lets you add formative assessments and interactive questions from within Google Slides.

Qball (Booth 706) - Qball™ - The throwable wireless microphone as seen on Shark Tank!

Quizizz (Booth 201) - Quizizz is a free quiz game for classrooms that lets students work at their own pace. Fun features like avatars, leaderboards, and memes get students excited, while teachers save time with features like auto-grading, LMS integrations, millions of pre-made quizzes, and much more.

Schoology (Booth 2544) - Schoology is putting collaboration at the heart of the learning experience with an easy-to-use LMS that connects the people, content, and systems that fuel education.

Seesaw (Booth 540) - Seesaw is a student-driven digital portfolio that helps students create, collaborate, and share their learning.

Soundtrap (Booth 2153) - Soundtrap is an easy-to-use, online music and podcast recording studio enabling creative collaboration in your spare time or in a safe classroom using any device.

SymbalooEDU (Booth 3044) - Save, manage and share your online resources. Symbaloo makes it easy by delivering the right content, in the right place, at the right time, to the right person.
Texthelp (Booth 1416) - We believe that literacy is every student's passport to academic and professional success. We create smart, user-friendly literacy and learning solutions, that provide the support each student needs; through reading, writing, math, and research features.
Tynker (Booth 516) - Tynker's award-winning creative computing platform helps children develop computational thinking and programming skills in a fun, intuitive, and imaginative way.
Wabisabi Learning (Booth 244) - Teaching Simplified, Learning Amplified. Rich media-driven portfolios, Real-time reporting and standards-based assessment, curriclum-mapping and more.
WeVideo (Booth 2059) - WeVideo enables deep learning with an easy-to-use video creation platform. Used by more than 6,500 schools worldwide, anyone can access WeVideo, from any device inside or outside of the classroom to capture, edit, view and share videos with secure storage of their content in the cloud.
Wonder Workshop (Booth 1847) - With our family of Cleverbots, we help drive computer science and robotics in schools through fun, hands-on learning.
If you have a favorite exhibitor that I missed or question about the Expo Center please post in the comments below.
If you are interested in more ISTE Tips, please take a look at my post: ISTE 2019 - 10 Conference Tips for the Engaged Educator.
The ISTE19 Expo hours
Monday, June 24, 9:30 a.m.–5:30 p.m.
Continental breakfast in the expo 9:45–10:15 a.m.

Tuesday, June 25, 9:30 a.m.–5 p.m.
Continental breakfast in the expo 9:45–10:15 a.m.
Wednesday, June 26, 9:30 a.m.–2:30 p.m.
Expo snack break 11–11:30 a.m.


---

Steve Wick is an ISTE member and a science teacher and instructional technology coordinator at Neuqua Valley High School in Naperville, Illinois. He is a passionate explorer of educational technology, failing forward, G Suite for Education, formative assessment, student-centered classrooms, the growth mindset and professional development best practices for educators. Read his blog and follow him @WickedEdTech. Going to ISTE19? Check out his post 10 must-read tips for ISTE19.