May 29, 2019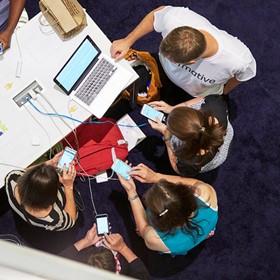 It's one thing to revolutionize a single classroom. But ushering in large-scale change to a school or district requires a deep cultural shift.

That's why many education leaders choose to send an entire team to the ISTE Conference & Expo to gather ideas and collaborate on solutions.
Some districts send representatives from each school in the district, while others send different grade-level teams – say a group of middle school administrators and teachers one year, elementary educators and leaders another year – so the learning is spread among all grade bands. Some districts select by job title, sending a group of tech coaches, for example.
Want to make ISTE19 a true catalyst for change in your school or district? Here are a few tips for collaborating with your team to get the most out of the conference.
1. Know your goal. With a clear goal in mind, you can make sure each member of your team gets exactly what he or she needs out of the conference. Whether your objective is to embark on a major technology initiative, find new ways to support your existing program or get examples for addressing the ISTE Standards, you'll get more out of the conference if you work as a team toward a common goal.

2. Play to your strengths. Choose which sessions each person will attend based on his or her knowledge and skill level. Attendees with prior knowledge or interest in a topic will typically get the most out of a session, and they can bring the most useful information back to the group.

3. Take advantage of collaborative spaces. ISTE19 will be peppered with lounges and other learning spaces where you can circle up with your team, debrief and plan for the following day. Tap into the creative energy onsite and start brainstorming ideas based on what you've learned so far!
Did you know ISTE offers group registration? Learn more.