June 6, 2019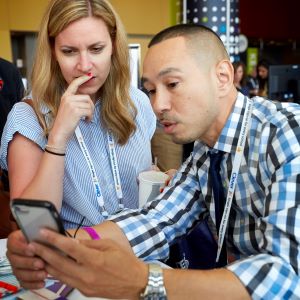 If this is your first time attending the ISTE Conference & Expo, you might be getting pretty excited by now. Soon you'll be in Philadelphia rubbing elbows with some of the biggest names in the field with thousands of educators who share your enthusiasm for transforming learning.
Whether you are looking for ideas for using technology in your classroom, hoping to meet people from your PLN in person or wanting to talk with experts about the best ways to roll out a districtwide tech initiative, the conference will not disappoint. You'll find expertise, inspiration and plenty of camaraderie. 
We want to make sure you are prepared to take full advantage of this electric experience. Click the links below to find tips, advice and resources for making the most of your conference experience.    
Educator Steve Wick has attended his share of conferences — as both an attendee and presenter. Read his 10 tips on how to get the most out of your ISTE19 experience.
You'll be surrounded by things to learn, ideas to share, sights to see and people to meet, and it's impossible to do it all. It helps to decide on your goals ahead of time so you can plan your schedule around them. Find out how to make the best use of your time for networking and gathering resources.
One way to take in more learning is to bring your entire team to ISTE19. Here are some tips for collaborating with your colleagues to get the most out of your shared conference experience.
With 550 companies represented, it's difficult to visit every booth in the expo hall, so you'll need to map out a strategy. ISTE member Steve Wick shares seven tips for navigating this rich edtech wonderland.
ISTE19 features a range of session types to suit all kinds of learners. Whether you prefer hands-on experiences, traditional lectures or fast-paced presentations, you'll find something to suit you from among the more than 1,200 sessions.  
Philadelphia is a feast for the senses! Find out about museums, historic sites, entertainment, shopping, restaurants and more!
You'll have a chance to hear 15 mainstage presenters this year. These are bold voices will speak about the future of learning, the importance of creativity and the heart of resilience. One such voice, Michael Bonner, will share how to overcome implicit bias.
9. Learn from educators just like you.
ISTE19 presenters are not that different than you. They're educators who try out new approaches and relish the opportunity to share what they've learned with others. No doubt you'll find hundreds of topics relevant to your teaching situation led by your peers. Read these blog posts about what some ISTE presenters will be sharing:
Need more inspiration? Watch the video below to get fired up about ISTE19 and then share it with colleagues!