June 8, 2021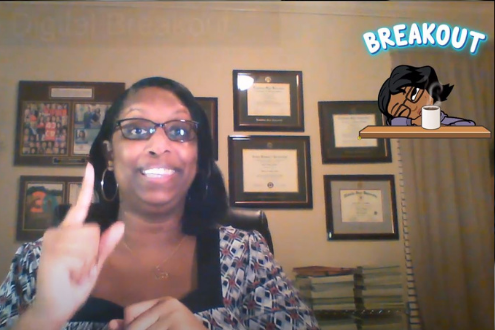 Discover how to make learning more engaging, equitable and robust from five veteran educators who've learned from experience. These ISTELive 21 presenters delve into topics like help struggling students, creating a classroom genius hour, using breakout games and more. Watch the videos below and then check out all the other sessions at ISTELive 21, June 25-30.
Google Tools for struggling students
Eric Curts, a longtime technology integration specialist, provides an expert's guide to tools within the Google ecosystem that can help struggling students and those with special needs. They include text-to-speech and speech-to-text tools, apps that improve readability and comprehension, and those that address behavior, focus and ease navigation. Install and try out each tool as Curts demonstrates them. Watch the videos below then check out Eric's ISTELive 21 sessions:
Personalized learning with genius hour
Nicholas Provenzano, aka The Nerdy Teacher, thinks that boring, canned curriculum is a source of frustration for teachers and students alike. He advocates for the genius hour approach, which puts learning in the hands of students by allowing them to choose what they want to learn and how they want to learn it. For example, students can build a carpentry project or customize a pair of shoes and use digital tools to show how they did it. Giving students a personal stake increases engagement and provides skills to become lifelong learners. Watch the video below then and check out his ISTELive 21 sessions:
Drawing as a thinking process
Manuel Herrera understands that most people are reluctant to draw because they feel their artistic ability is lacking. But Herrera offers a different perspective: If you can think, you can draw. Herrera, a school district innovation coordinator, strongly believes in drawing as a way to demonstrate thinking. Through exercises such as turning squiggles into birds and assembling a toolbox of shapes, Herrera shows how anyone can communicate ideas through drawing. Watch the video below then check out his ISTELive 21 session, Think Like a Designer!
Creative storytelling with Adobe Spark
From cave drawings and hieroglyphics to Facebook and Instagram, humans have always sought to share their stories. And in this digital age, the tools have never been better. Claudio Zavala Jr., a digital designer for a school district in Texas, wants to show people how to use digital tools to tell their stories. Zavala will demonstrate how apps like the free tools Adobe Spark for video and text, and Adobe Premiere Rush for animation can bring stories to life. Watch the video below then and check out his ISTELive 21 sessions:
Collaboration with digital breakout games
Watch Desiree Alexander as she parodies the day-to-day routine of dull online lectures and lessons and then describes a better way. Alexander, regional director of Associated Professional Educators of Louisiana, shares the benefits of digital breakout games, activities where students work together to solve puzzles and riddles. Alexander touts the benefits: They can be used digitally or in person; they're free, student-centered and flexible; and they connect content to cultural relevance. Watch the video below then and check out her ISTELive 21 sessions: