If your ultimate aim is an engaging digital age learning environment driven by motivated educators and passionate learners, we can help. Our expert faculty works shoulder to shoulder with school leaders and their staff to develop digital age tech plans, evaluate existing programs and provide data-driven solutions that will help you make a real difference in student learning. Whatever your unique needs and goals — from developing a digital citizenship strategy to launching a systemwide mobile learning initiative and everything in between — we can provide the customized level of support you need to get from where you are to where you want to be.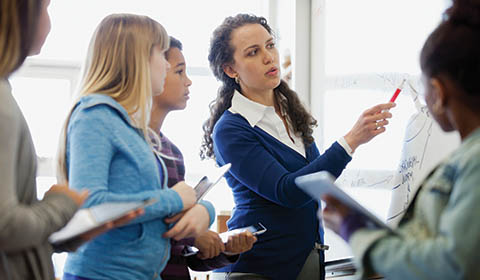 Assess your needs and impacts
To get to where you want to be, you must first know where you are. We conduct data-driven classroom observations, onsite stakeholder interviews, and assessments of existing programs for readiness, needs and impact. Once we pinpoint your place on the road to tech integration, we use the ISTE Standards and Essential Conditions as a map to guide your team toward improved technology access, effective tech integration and sound digital citizenship.
Reimagine your technology plan
Data-driven decision-making is smart decision-making. We can help you tap into your school or district's unique data to refine or rebuild your technology plan to meet your goals. Using the ISTE Essential Conditions as a framework, we work with you to develop a digital age learning ecosystem that is both successful and sustainable.
Get help with going mobile
Mobile technologies hold vast potential for unlocking student engagement and deeper learning. Let us show you how to use them to transform your digital age learning environment. We can help you develop a clear vision, establish strong leadership, grow stakeholder support, strengthen relationships between tech coaches and teachers, and evaluate your progress as you develop and refine your mobile implementation plan.
Develop a digital citizenship strategy
Today, we are all digital citizens. But it takes support to apply digital citizenship concepts system-wide, use social media in the classroom, and model the responsible and effective use of technology in ways that truly improve student learning. Our innovative professional learning program provides a foundation for applying the digital citizenship concepts outlined in the ISTE Standards.