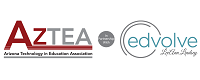 About
Two premiere organizations have teamed up to create an exceptional learning experience for ISTE Certification candidates. Established in 1998 as Arizona's ISTE affiliate, the Arizona Technology in Education Association (AzTEA) is known for their outstanding support, advocacy, and professional learning. Edvolve is an Arizona-based entity that delivers premiere ed tech professional development and consulting services, and is led by one of the core leadership team members that developed the ISTE Standards. The collective knowledge and expertise of the two organizations is what uniquely equips AzTEA and Edvolve to offer outstanding professional development and coaching that honors each learner and provides the tools they need to complete a portfolio that reflects their implementation of the ISTE Standards for Educators.
Trainers
LeeAnn Lindsey, Owner & Principal Consultant, Edvolve

Stacey Pasquel, President, AzTEA; Technology Integration Educator, Gilbert School District; Academic Associate, Mary Lou Fulton Teachers College, Arizona State University

Anna Baralt, Director of Educational Technology, Shorecrest Preparatory School

Suzanne Sallee, Past-President, AzTEA; Technology Integration Specialist, Creighton School District
Learn More & Register
To learn more about AzTEA and to register for an upcoming ISTE Certification for Educators training, please click below:
Registration Policies
AzTEA and Edvolve understand that some of our participants may need to travel to ISTE Certified Educator trainings. We reserve the right to cancel a session if less than 10 participants are registered 2-weeks prior to the start of the course. Participants will be notified via phone or email of the cancellation and transferred to the rescheduled course. *Exceptions may apply for sessions that are coordinated in partnership with another organization. (For out of town sessions, it may be different and we will work with you to determine the need to cancel.) For a full list of AzTEA and Edvolve's Registration Policies use this link.