Cathy Collins, Ed.D. Member-at-Large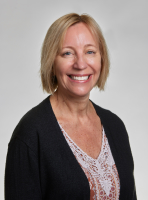 Cathy Collins has worked as a Library Media & Technology Specialist for 23 years at the K-12 level. She is currently serving as a Library Media Specialist at Sharon Middle School. She holds a Doctorate in Education with a specialization in Curriculum, Leadership, Teaching and Learning; and additional Masters Degrees in Education and Library Science. Dr. Collins served on the MassCUE Board as PD Chair from 2015-2019. She has published her writing in various journals including "EdWeek," "Library Media Connection," "NEA Today," and "Knowledge Quest." She is a Reynolds High School Journalism Institute Fellow and served as a project consultant for the E-Book, "Searchlights and Sunglasses: Journalism in the Digital Age." She is also currently serving as a News Literacy Project Ambassador.
She received a "Teachers for Global Classrooms" fellowship from the U.S. State Dept. in 2014 and is the recipient of AASL's Intellectual Freedom Award (2014). She was named an MSLA "Super Librarian" in 2015. She served on the MA State Science Ambassador Team, ISTE STEM PLN Leadership Team, and was elected in December, 2020, to the ISTE Board of Directors.
She is passionate about STEM/STEAM and global education. In addition to having coordinated the Chinese Exchange Program at Sharon High School for many years, she has journeyed with students to India, Peru and Tanzania, Africa to contribute to global service learning projects.
Contact
Cathy Collins, Ed.D.
Library Media Specialist
Sharon Public Schools: Sharon, Massachusetts
North Easton, MA
United States
Committees
ISTE Board of Directors
Executive Compensation Committee
Membership Linkage Committee