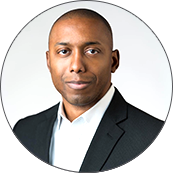 Chike Aguh
Future of Work Fellow
Chike Aguh (Chee-Kay Ah-Goo), future of work fellow at ISTE, works closely with the learning team and focuses on the future of work and its implications for K-12, higher education and tech developers.
Chike is also a principal at the McChrystal Group, founded by Gen. Stanley McChrystal, which focuses on transforming companies into adaptable and agile organizations built to succeed in the 21st century economy. There Chike focuses on growth strategy for the firm's clients. And he's a partner at Inncuvate, a Maryland firm growing innovation businesses and ecosystems, particularly in communities that need them most. Additionally, as a current team member at the Council of Foreign Relations and member of their task force on the future of the U.S. workforce, Chike writes and speaks on the future of work.
Chike served as CEO of EveryoneOn, a social enterprise that has connected over 500,000 low-income Americans in 48 states to affordable internet, computers and digital skills. He has also worked as an education policy official under New York Mayor Michael Bloomberg, a second grade teacher and Teach For America corps member, a Fulbright Scholar in Thailand and a director of corporate strategy at the Advisory Board Company.
Chike holds degrees from Tufts University (B.A.), the Harvard Graduate School of Education (Ed.M), the Harvard Kennedy School of Government (MPA), and the University of Pennsylvania's Wharton School (MBA).He has spoken at, written for or been featured by the White House, Harvard University, "CNNMoney," Aspen Institute, Forbes, Wired Magazine and Fast Company.
Chike lives in Beltsville, Maryland, with his wife, Crystal, and son, Kelechi.