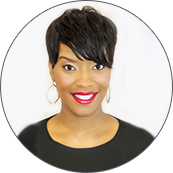 Rhonda Allen
Chief Membership and Partnership Officer
Rhonda Allen, chief membership and partnership officer, has proven expertise in creating the conditions for values and action alignment within and across organizations. With professional roots in the classroom and education nonprofits, Rhonda has more than 10 years of experience in learning, development, diversity and inclusion, user-centered design, human assets, and executive strategy.
She formerly served as vice president at Education for Excellence where she led the People and Equity team to advance E4E's mission by creating conditions to successfully build strategy across streams, stakeholder groups and the broader E4E community. Prior to E4E, Rhonda served in various roles at Teach for America, including driving strategy and leading the team to create professional development experiences for educators, alumni, staff and communities with an emphasis on strengthening culture and networks while delivering practical and quality learning experiences. She also worked as an ESL teacher with the Abu Dhabi Education Council and an English language arts founding teacher at KIPP Vision Academy.
Rhonda holds a master's degree in early childhood education from Georgia State University and a bachelor's degree in nonprofit management, Spanish and sociology from the University of Arkansas at Little Rock.