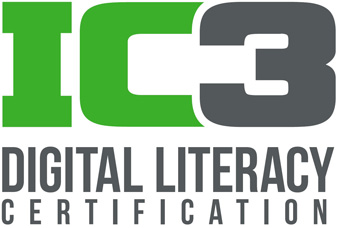 Certiport's IC3 Digital Literacy Certification is a globally-recognized credential for basic computing skills and digital literacy. IC3 certification validates that the credential holder has the computing skills needed to succeed in entry level business settings and college.
Consisting of three certification exam components: Computing Fundamentals, Key Applications, and Living Online, IC3 Digital Literacy Certification is a credential designed to remain relevant in an ever-evolving world of technology, and serve as a comprehensive resource for succeeding in any environment requiring computers, devices, or the Internet.
Features
Online interactive examination
Knowledge and performance based assessment items
Three exams covering 16 domains

Seal of Alignment Review
The IC3 Digital Literacy Certification successfully underwent the International Society for Technology in Education (ISTE) Seal of Alignment review for Readiness. Reviewers determined this resource assesses foundational technology skills needed to support the 2016 ISTE Standards for Students. The IC3 GS5 digital literacy assessment exams covers a broad range of technology knowledge and skills foundational to the acquisition of the knowledge and skills. The exams embody a number of high quality assessment strategies suited to the content they address with a mix of items appropriate to various kinds of knowledge and skills.
"The IC3 Digital Literacy Certification is carefully designed to assess knowledge and skills in not only considerable breadth but also in significant depth."
– ISTE Review Board
The IC3 GS5 exams was found to support readiness for the following 2016 ISTE Standards for Students:
1. Empowered Learner
1.b. Build networks and customize their learning environments in ways that support the learning process.
1.c. Use technology to seek feedback that informs and improves their practice and to demonstrate their learning in a variety of ways.
1.d. Students understand the fundamental concepts of technology operations, demonstrate the ability to choose, use and troubleshoot current technologies and are able to transfer their knowledge to explore emerging technologies.
2. Digital Citizen
2.a. Cultivate and manage their digital identity and reputation and are aware of the permanence of their actions in the digital world.
2.b. Engage in positive, safe, legal and ethical behavior when using technology, including social interactions online or when using networked devices.
2.c. Demonstrate an understanding of and respect for the rights and obligations of using and sharing intellectual property
2.d. Manage their personal data to maintain digital privacy and security and are aware of data-collection technology used to track their navigation online.
3. Knowledge Constructor
3.a. Plan and employ effective research strategies to locate information and other resources for their intellectual or creative pursuits.
3.b. Evaluate the accuracy, perspective, credibility and relevance of information, media, data or other resources.
3.c. Curate information from digital resources using a variety of tools and methods to create collections of artifacts that demonstrate meaningful connections or conclusions.
3.d. Build knowledge by actively exploring real-world issues and problems, developing ideas and theories and pursuing answers and solutions.
4. Innovative Designer
4.b. Students select and use digital tools to plan and manage a design process that considers design constraints and calculated risks.
5. Computational Thinker
5.b. Students break problems into component parts, extract key information, and develop descriptive models to understand complex systems or facilitate problem-solving.
5.c. Break problems into component parts, extract key information, and develop descriptive models to understand complex systems or facilitate problem-solving.
6. Creative Communicator
6.a. Students choose the appropriate platforms and tools for meeting the desired objectives of their creation or communication.
6.b. Students create original works or responsibly repurpose or remix digital resources into new creations.
6.d. Publish or present content that customizes the message and medium for their intended audiences.
7. Global Collaborator
7.b. Use collaborative technologies to work with others, including peers, experts or community members, to examine issues and problems from multiple viewpoints.
7.d. Explore local and global issues and use collaborative technologies to work with others to investigate solutions.