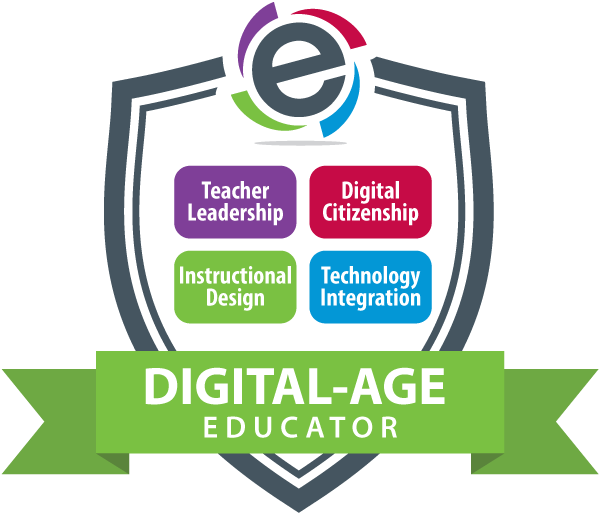 eMINTS Digital-Age Educator Program is an online, facilitated professional development program designed for teachers to become familiar with and design unit plans aligned to the ISTE Standards for Educators.
The eMINTS Digital Age Educator program consists of eight 7-week courses:

1. Empowering Learners with PBL
2. Fostering Creativity and Innovation in the K-12 Classroom with Design Thinking
3. Introduction to Computational Thinking in the K-12 Classroom
4. Digital Citizenship
5. Innovative Teacher Leaders in the Digital Age
6. Online Tools for Digital Age
7. Digital Age Learning with
8. Chromebooks in the Classroom
Features
Online facilitated professional development
Eight 7-week courses
Badges earned for each course completed
Certificate and badge earned for program completion
Seal of Alignment Review
The eMints Digital Age Educator Program successfully underwent the International Society for Technology in Education (ISTE) Seal of Alignment review for Proficiency. Reviewers determined this resource provides substantial opportunities for teachers to practice the skills and knowledge necessary to meet the ISTE Standards for Educators. ISTE reviewers found the eMINTS Digital Age Educator courses to be well-developed, timely, and rich in material appropriate for educators across the K-12 spectrum with focused and practical real-world implementation strategies.
"Courses available through this program are well-developed, focused on important facets of leveraging technology to increase student learning, and genuinely useful for virtually any teacher."
— ISTE Reviewers
The eMINTS Digital Age Educator resource was found to align to the following ISTE Standards for Educators:
1. Learner
1.a. Set professional learning goals to explore and apply pedagogical approaches made possible by technology and reflect on their effectiveness.
1.b. Pursue professional interests by creating and actively participating in local and global learning networks.
1.c. Stay current with research that supports improved student learning outcomes, including findings from the learning sciences.
2. Leader
2.c. Model for colleagues the identification, exploration, evaluation, curation and adoption of new digital resources and tools for learning.
3. Citizen
3.a. Create experiences for learners to make positive, socially responsible contributions and exhibit empathetic behavior online that build relationships and community..
3.b. Establish a learning culture that promotes curiosity and critical examination of online resources and fosters digital literacy and media fluency.
3.c. Mentor students in safe, legal and ethical practices with digital tools and the protection of intellectual rights and property.
3.d. Model and promote management of personal data and digital identity and protect student data privacy.
5. Designer
5.b. Design authentic learning activities that align with content area standards and use digital tools and resources to maximize active, deep learning.
5.c. Explore and apply instructional design principles to create innovative digital learning environments that engage and support learning.
6. Facilitator
6.b. Manage the use of technology and student learning strategies in digital platforms, virtual environments, hands-on makerspaces or in the field.
6.c. Create learning opportunities that challenge students to use a design process and computational thinking to innovate and solve problems.
6.d. Model and nurture creativity and creative expression to communicate ideas, knowledge or connections.
7. Analyst
7.a. Provide alternative ways for students to demonstrate competency and reflect on their learning using technology.
7.b. Use technology to design and implement a variety of formative and summative assessments that accommodate learner needs, provide timely feedback to students and inform instruction.