December 23, 2014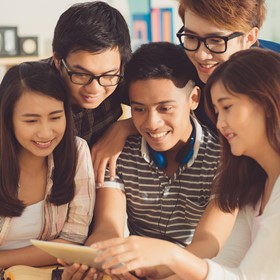 How can we teach kids to use technology responsibly when the technology is changing faster than we can keep up? How do we foster the values of good digital citizenship in students who are old enough to scoff at the "thou shalts" and "thou shalt nots"?
Grappling with these questions is just the beginning of the digital citizenship conversation. Most educators recognize the need for it, but many are at a loss for how to teach it. Some have tried creative approaches and failed.
In classrooms where digital citizenship is taught effectively, the teachers often share two things in common: They model ethical technology use for their students on a daily basis, and they naturally incorporate conversations about it whenever technology is part of their lesson plan. In other words, they weave digital citizenship seamlessly throughout their curriculum.
Here are some resources to help:
Schools have long woven citizenship lessons into their curricula, but now that much of our social interaction happens online, many teachers are struggling to figure out how to teach students about responsible digital citizenship as well. Yet the two aren't that different. This infographic compares the basic tenets of traditional citizenship with the essential elements of digital citizenship.
Technology is changing faster than teachers can keep up, leaving many educators struggling to develop a cohesive digital citizenship curriculum. In this video, tech integration expert LeeAnn Lindsey discusses the main challenges schools need to address.
In a classroom where learning is already infused with technology, it's a simple matter to incorporate digital citizenship into any lesson. Kelly Mendoza from Common Sense Media offers three examples of how to slip digital citizenship into your regular activities.
Empower students to think critically, behave safely and participate responsibly in a digital world. Common Sense Media's K-12 curriculum is available as either an iBook or printable PDF.
Students are far more likely to absorb the norms of appropriate, responsible technology use when they see teachers modeling it on a regular basis. Explore how the ISTE Standards for Teachers address the need to model good digital citizenship.
Explore the major issues surrounding digital citizenship in schools with this self-paced online course. It includes resources, videos and lessons to help educators at all levels — from administrators to teachers to coaches — develop, model and facilitate digital citizenship skills.
As socialization increasingly shifts into the digital realm, something is getting lost in translation: empathy. One way to discourage cyberbullying is to help students build empathy skills. Discover three powerful approaches to counteracting the empathy gap.
How do we teach digital citizenship to older students, who don't respond well to lecturing and finger pointing? Instructional technology coordinator Cynde Reneau shares her strategies for guiding students to draw their own conclusions about cyberbullying.
Looking for a fun way to help younger students become more social media savvy? Flocabulary's animated rap video for kids offers 10 tips for appropriate posting and sharing on social media.