January 29, 2019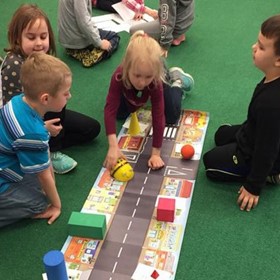 Leka DeGroot can relate to teachers who would like to bring coding to their classrooms but just can't fathom fitting it in.

"Teachers often tell me, 'It sounds great but I don't have time, or I don't have the skills,' but you don't have to be a computer scientist to teach coding," assures DeGroot, a first grade teacher at Spirit Lake Elementary in Spirit Lake, Iowa.

Just a few years ago DeGroot explored coding for the first time through Hour of Code. Today, she's a trainer for Code.org. She's driven by a desire to introduce students to computational thinking and integrating coding into the curriculum.

"The basic concepts of listening to each other, communicating and collaborating, these are not just for computer science. We want every student to have those skills," DeGroot says. Even the youngest students benefit from the critical-thinking and problem-solving skills that coding provides.

Not only do kids learn from it, they love it! Recently, for example, collaborated with a teacher in Wisconsin to have students write loop code dances for each other and then held a Google Hangout dance party.

DeGroot's 6- and 7-year-old students also have a class Twitter account they use to tweet math problems to students across the globe, host book chats, play book bingo and then blog about what they learned.
When bringing coding to her classroom, DeGroot integrates both unplugged and device-enabled lessons to allow students to practice what they are learning – whether its identifying sight words or solving addition problems. Her Math Connections lesson is one example:
Math Connections unplugged
Start by teaching six arm gestures students can use as part of an unplugged coding lesson to practice their understanding of numbers. For example, both arms up for north; both arms down for south; both arms pointing left for west; both arms pointing right for east; arms folded on top of each other to indicate "no instruction;" and arms crossed over the chest to indicate "stop." Have students work in pairs using 10-square frame cards – one with dots to indicate a number, the other with one numeral in each of the 10 boxes.

Working in groups of two, one student (coder) uses arm gestures to guide his partner (receiver) to a numeral on the numeral grid. The other student follows his instructions to arrive at the right numeral.
"The lesson is open-ended because it can be solved in many ways and it challenges students to be creative," DeGroot says. Students of differing ability levels can also be challenged to show more than one way to direct a student to the proper number, or to show the most efficient way to direct his partner to the proper numeral.
Math Connections with Bee-Bot
You can teach a similar math lesson using Bee-Bot robots. In this format, students work with a Bee-Bot and a mat with a series of numerals placed in a grid. 

Students role two dice and then add together the numbers they role. Using the up, down, left and right arrow (coding) buttons on the top of the Bee-Bot, students direct the robot to the correct numeral (the sum of the die) on the mat.

Alter the mat to include a list of sight words and students can participate in a new coding lesson by directing the Bee-Bot to words listed on flashcards.

DeGroot also likes the coding lessons for young learners found in code.org curriculum and via the Kodable app and Dash and Dot robots.  
This is an updated version of a post originally published on Jan. 11, 2017.