April 5, 2020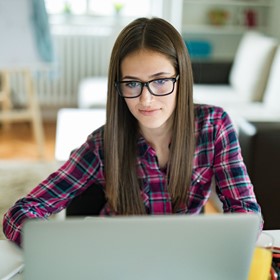 Michele Eaton started as a classroom teacher, but her move to the technology department required her to become an instructional designer. It's a challenging leap, but one Eaton, director of virtual and blended learning for the Metropolitan School District of Wayne Township in Indianapolis, Indiana, says all teachers can make.
It's just a matter of thinking – then creating – differently.

To explain the shift, Eaton points to a quote by William Horton in the book E-Learning by Design. "Unless you get instructional design right, technology can only increase the speed and certainty of failure," Horton wrote.

Eaton couldn't agree more, and has a saying of her own. "I have a strong belief that if all we ever do is replicate what we do face to face, then it (online learning) will just be a cheap imitation of the classroom experience."

In other words, good in-person teaching doesn't equate with good online teaching.

To avoid that trap, Eaton has some tips for what teachers should do differently when creating online learning experiences:
Be aware of human tendencies.
When you create online content, think about how people use the internet. They browse. What we do online is different than what we do in a traditional learning space. We explore. We don't read verbatim. We skim. And we look for information "just in time."

The best online courses create opportunities for students to explore and find information, and then figure out how to use it and apply it, Eaton explains. Great courses also include pop-ups or places where students can hover and get more information.
Leverage interactive capabilities.
Don't just move your worksheets online, Eaton warns. Take it a step further and provide interactive options. Include simulations, post videos that include pauses for thinking and exploration, and use tools like h5p.org to create HTML5 learning objects that are interactive.

"Any piece of content we want students to use online needs to have them interact in some way," Eaton says. Even if it's static content, like an article to read, ask students to provide a quick reflection or provide collaborative notes. It helps makes thinking visible.
Experience high-quality online learning yourself.
The fastest way to become a good online content creator is to experience good online learning. Visit sites like iTunes U or coursera and find a topic you're interested in. Then give online learning a try and see what works for you. Reflect on how it impacted you, what caught your attention, what would bring you back. Think about what you discover and incorporate those ideas when you create online lessons, always formatting things in a way that is easy for students to take in.
Don't forget to build in formative assessments.
When creating online content for the first time, teachers often tend to build lessons like they would for face-to-face learning. In the classroom, that might look like covering content, taking a quiz, doing a project, testing, moving on. In the online environment, it's hard to tell how a student is doing – until they bomb a quiz, for example – but by then they've already moved on to the next lesson.

To avoid this pitfall, provide short, quick opportunities for students to make their thinking visible throughout the lesson so you know how every student is doing.
Educators seeking more tips for helping students become critical thinkers can watch a recording of the webinar "Bright Ideas for E-Learning Design." Viewers will:
Learn how online learning differs from face-to-face learning.
Get practical tips for creating strong digital content and online lessons.
Discover how to update the online curriculum you may have already created.
Learn how to take best practices in pedagogy and apply them to online instruction.