September 11, 2014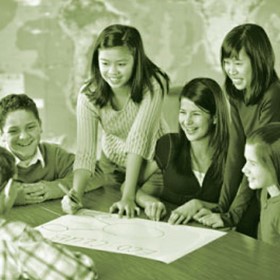 Advances in computing have expanded our capacity to solve problems at a scale never before imagined, using strategies that have not been available to us before. Students will need to learn and practice new skills — computational thinking (CT) skills — to take full advantage of these revolutionary changes brought about by rapid changes in technology.
ISTE and the Computer Science Teachers Association (CSTA) collaborated on a project to prepare young learners to become computational thinkers who understand how today's digital tools can help solve tomorrow's problems. Because both associations believe that CT is vital for raising the level of achievement, preparing students for global competitiveness and blending academics with real life, they have made the resources below free to all educators.
Computational thinking: Digital age skills for everyone
Computational Thinking Toolkit
ISTE's Computational Thinking Toolkit is a complete collection of all of our CT resources. From presentations and handouts to surveys and graphic animations, you'll find everything you need to learn more about or to advocate for CT. You can use resources in the Computational Thinking Toolkit for conference presentations, study groups or meetings with educators, parents, community or industry leaders.
Computational thinking operational definition
ISTE and CSTA have collaborated with leaders from higher education, industry and K-12 education to develop an operational definition of computational thinking (CT). The definition provides a framework and vocabulary for CT that is meant to resonate with all K-12 educators.
Download the operational definition (PDF)
Multimedia
Tutorial on using the CT PowerPoint (video)
CT for elementary school level audience (PPT)
CT for middle/high school level audience (PPT)
CT: A digital age skill for everyone (video)
CT student animation (mobile)
CT building blocks animation (mobile)
Presenter instructions
Handouts and booklets
Operational Definition of Computational Thinking
CT Teacher Resources
CT Leadership Toolkit
CT Vocabulary and Progression Chart
"Persuade Me, Please" Activity Handout
"Persuade Me, Please" Presenter's Copy
CT Presentation Survey
Additional online resources
Sign-in sheet (DOC)
Presenter's survey (link)
Learning & Leading article: "Computational Thinking: A Digital Age Skill for Everyone"
ACM Inroads article: "Bringing CT to K-12: What Is Involved and What Is the Role of the Computer Science Education Community?"
Computer Science Teachers Association CT website
Our partners