September 27, 2021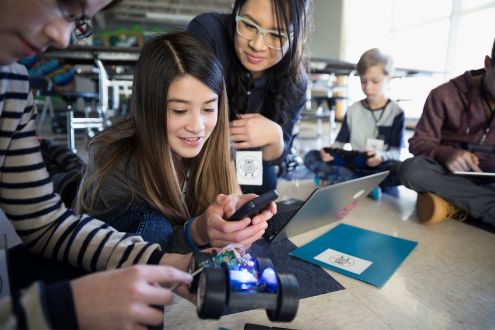 Quick! How do you get students interested in STEM?
The answer, unfortunately, isn't easy to pinpoint. With the exception of a small number of math, science and computer whizzes, most middle and high school students — particularly girls and underserved students — never even consider pursuing a STEM career.
Research shows, however, that when you show students a real-life application for their work, let them get hands-on and have them collaborate in teams, you can turn STEM avoiders into STEM lovers. Add a dash of competitive spirit, and you've got a surefire recipe for student engagement.
Competitions, says Sergei Lupashin, were the key to his ultimate success as a systems engineer and roboticist. "Everything in my life that has allowed engineering to actually work for me has (come out of) competitions," Lupashin says.
Lupashin — who now runs a company in Zurich that creates Fotokites, or personal drones for journalists and other professionals — credits student challenges like the RoboCup for much of what he learned during college.
The RoboCup, he explained, is a perfect example of a competition that teaches STEM principles in action. "If you take just a small part of that challenge — like the kickoff — it's all about trig and geometry," he said.
Another reason competitions are so attractive is that educators don't need to develop them from scratch. The web is already full of STEM challenges for students in grades 6-12. All you have to do is choose one — or better yet, let the students choose — and sign them up.  
Here are just a few cool middle and high school STEM competitions we found:
This is an updated version of a post that originally published on April 24, 2019.