April 20, 2020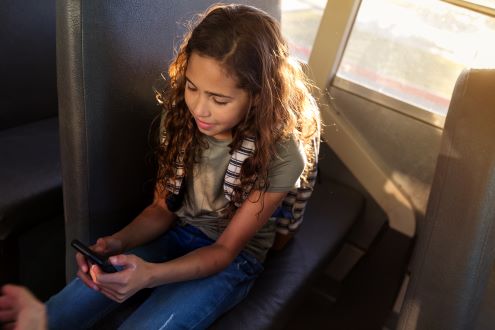 If educators have learned anything from the coronavirus outbreak, it's that digital equity is a complex and moving target. Never has the breadth of the digital divide been more apparent — and never has it been clearer that no single solution can serve every individual situation.

As school closures continue to shed light on digital equity issues, we're seeing a wide range of responses from districts. Northshore School District in Washington state put the brakes on remote instruction until it could provide equitable services to all students. The New York City Department of Education loaned out 300,000 iPads so students could keep learning. And across the globe, educators are scrambling for patchwork solutions to put a device and broadband internet into each student's home.

Of course, getting students connected is just the first step. Educators also face a host of challenges when it comes to serving students with special needs, those who lack adult supervision, or those who are homeless, abused or caring for their siblings — the list goes on.
Still, educators have to start somewhere. There may be no perfect solution to the equity problem, but there are plenty of imperfect ones. Here are five simple resources districts are leveraging as they work to bridge the digital divide and keep kids learning during the COVID-19 crisis:
1. Free Wi-Fi
Several internet providers are offering up to 60 days of free in-home internet service to all households with K-12 or college students. Additionally, more than 550 companies and organizations have signed the Keep Americans Connected Pledge, agreeing to open up their Wi-Fi hotspots for free public use. While it's up to each household to take advantage of these services, educators can help by alerting parents to such opportunities as they arise.
2. School bus fleets
Jessamine County Schools in Kentucky has enlisted its bus fleet to deliver breakfasts and lunches to students throughout the district. Now they're looking at ways to make their bus deliveries perform double duty. For example, they could be used to deliver mobile devices to impoverished students or equipped with wi-fi and dispatched as neighborhood hotspots.

"How do those bus deliveries become a place where parents can walk up and say I need such and such?" says former superintendent Lu Young, executive director of the University of Kentucky's Center for Next Generation Leadership. "Delivering those meals provides a safe and distant touch point. Having those buses out there as the new face of the school district provides a way to stay in touch that many families could access."
3. Public television
Los Angeles Unified School District has partnered with three local public TV stations to run daily educational programming from 7 a.m. to 7 p.m., USA Today reports. Curated from the existing PBS library of educational shows, each station is tailored to a specific age group, from elementary to middle to high school students. District curriculum experts from LAUSD even worked with PBS to add in prompts for students to help highlight what they should be thinking about as they watch the shows.
4. School buildings
Once bustling hives of learning and social interaction, most school buildings now sit empty. But in rural North Carolina, families without internet access are gathering in school parking lots to tap into the district's Wi-Fi. At Rowan-Salisbury Schools, where one of the nation's fastest digital cities lies just five miles from an internet dead zone, the technology team worked with access point providers to jack up school Wi-Fi signals so students could hop online from the safety of their car.
5. Old-fashioned paper
No matter how heroically a district tries to place a device in every student's hands, the reality is that there will still be students who cannot access online learning for one reason or another. The Massachusetts Education Equity Partnership urges district leaders to regularly distribute multilingual learning toolkits in paper as well as digital form for every grade level and major subject so students without devices or connectivity can continue learning — at least until more robust online learning infrastructures are in place.
Baltimore County Public Schools planned for equity by pulling together both print and online learning materials for students. District leaders not only culled three weeks' worth of instructional materials from their learning management system and compiled them on a publicly available website for easy access, but they also provided printed packets for students to take home.
In addition, they made a districtwide effort to ensure every student checked out books from the library. On the last day of school, the district emptied more than 65,000 books from library shelves, says Ryan Imbriale, executive director of the district's department of innovative learning.
As educator and Forbes contributor Colin Seale writes, "There is no exhaustive how-to list for equity because equity work is never quite finished. The key to providing equitable distance learning opportunities for all students is to recognize what this looks like for each student's unique situation."
---
Nicole Krueger is a freelance writer and journalist with a passion for finding out what makes learners tick.
This is an updated version of a post that published on March 30.