WANT TO MAKE A DIFFERENCE?
YOUR TIME AND TALENTS CAN HELP BUILD AN AMAZING COMMUNITY FOR EDUCATORS.
Applications to join our 2023-2024 cohort of ISTE Community Leaders are now open! Apply by Friday, June 2 to be considered.
Serving as an ISTE Community Leader is a great way to volunteer with other passionate educators, share your expertise and give back to the education field. Whether you're excited about STEM, digital citizenship, virtual reality (or other topics!), this is your chance to make a difference for educators near and far.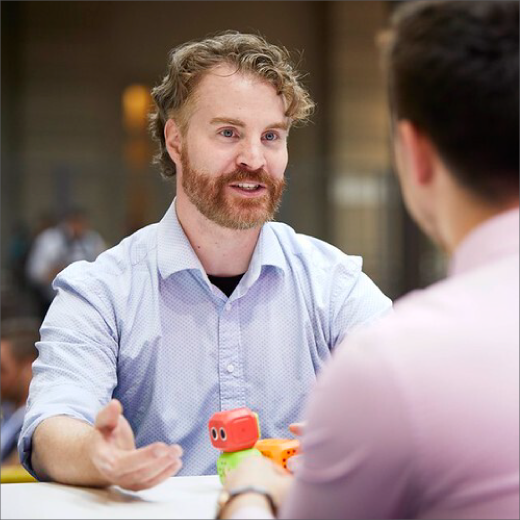 ISTE Community Leaders ...
Lead professional development activities as content experts in webinars, articles and more.
Answer questions and give advice in ISTE Connect, ISTE's online member community.
Have opportunities to support the ISTE conference by being invited to review proposals, select must-see sessions for content areas, and even coordinate events like playgrounds.
Often go on to write ISTE books, author ISTE U courses or write for the ISTE Blog or EdSurge. Past volunteers have even gone on to serve on the ISTE Board of Directors.
Because of the help of people like you, educators pick ISTE for their peer-to-peer PD and building connections around the globe. Community Leaders are the lifeblood of ISTE, and there are opportunities to contribute as much or as little as you'd like. Most volunteers contribute one to five hours per month.
ISTE Community Leaders get ...
Opportunities to develop valuable professional skills through unique volunteer activities.
FREE ISTE swag, including T-shirts and other goodies.
Four FREE ISTE ebooks per year, to be voted on by volunteers.
Exclusive access to a private Slack workspace to connect and collaborate with other Community Leaders and ISTE staff.
Connection to like-minded, dedicated educators who are lifelong learners.
An exclusive recognition event at the annual ISTE conference.
A certificate recognizing your service and a digital badge in ISTE Connect.
Inclusion in our volunteer directory on iste.org (optional).

THANK YOU TO ALL OUR WONDERFUL VOLUNTEERS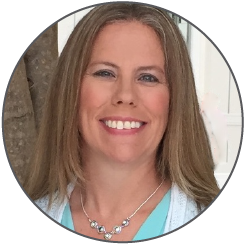 "Volunteering has helped me to network with other like-minded professionals. I look forward to our meetings and interactions because I am always inspired by my colleagues from across the nation."
- Elizabeth Freeman, Assistant Superintendent of Innovation, Fremont School District 79
Are you ISTE Certified? Community Leaders earn points toward renewal!
Current ISTE Community Leaders
Our member community would not be the same without our esteemed group of ISTE Community Leaders. These year-round volunteers contribute hundreds of hours to sharing practical guidance and accelerating good practice, advancing the field of edtech as they do so. They're the special sauce that make our community exceptional.
Ajayi Anwansedo, Ph.D.
Founder, onecodeclub
Louisiana, United States
Alberto Herraez Velazquez, M.Ed.
EdTech Consultant
Spain
Allie Schultze
Consulting Teacher-Education Technology
Alabama, United States
Allison Bacon
Coordinator of Instructional Technology
New York, United States
Amalia Liogas
Director of IT
Quebec, Canada
Amanda Nguyen, M.Ed.
Associate Director of Partnerships
Maine, United States
Amy Pate
Curriculum Technology Specialist
Mississippi, United States
Analucia Tejada, M.Ed.
Volunteer Preschool Teacher
Illinois, United States
Andreas Tsouchlaris
Academic Director
Greece
Anna Hunter
Teacher
Arizona, United States
Arnold Rotenberg
Director of Congregational Jewish Living
New York, United States
Bhavna Mathew
IB Practitioner
India
Bill Bass, M.Ed.
Innovation Coordinator
Missouri, United States
Bonnie Nieves
Teacher, Author, Consultant
Massachusetts, United States
Brandi Miller
Instructional Technology TOSA
California, United States
Brian Seymour
Assistant Superintendent of Academics and Innovation
Ohio, United States
Camille Dempsey
Associate Professor
Pennsylvania, United States
Cammie Kannekens
Instructional Lead
Alberta, Canada
Carol Marcolini
Instructional Technology Coach
Virginia, United States
Cathy Houchin
Online Specials Coordinator
Wisconsin, United States
Chris Johnson, Ph.D.
Assistant Professor Emeritus, Educational Technology
Arizona, United States
Christiana Gupta
CEO at Simplicity Education
New York, United States
Christina DiMicelli
Technology Integration Specialist
New Hampshire, United States
Christina Griffis
Teacher, Robotics Coach
Florida, United States
Christina Nording
Library Media Specialist
Wisconsin, United States
Christina Sciarrotto
Teacher
New York, United States
Christine Morgan, M.Ed.
K-5 Technology Teacher
Texas, United States
Christopher Salber
Teacher
Mississippi, United States
Courtney Conley
Instructional Technology Coach
Michigan, United States
Craig Nicholls
Directory of Digital Learning
Australia
Cynthia Vavasseur, Ph.D.
Professor of Educational Technology
Louisiana, United States
Dan Thomas
Technology Teacher
New York, United States
Danielle McGee, M.Ed.
Technology Director
Mississippi, United States
David Lockettm M.Ed., M.IDT
Co-Director NASA Data Science and Robotics Academy @ Meharry
Washington DC, United States
Deepa George
STEM parent
Bangladesh
Dominic Hill
Technology and Maths Specialist
Japan
Elizabeth Di Cataldo
Director of the Library, EdTech and iLab
Italy
Elizabeth Kutchey, Ed.S.
Director of Instructional Technology, Data and Assessment
Michigan, United States
Emily Thomas
Technology Integration Coach & Trainer
Minnesota, United States
Emmanuel Ramos, M.Phil
Professor Researcher
Mexico
Erin Dowd
Author & Curriculum Consultant
New Hampshire, United States
Gail Lovely
Independent Consultant/Author/Professional Development Specialist
Colorado, United States
Georgia Terlajem M.A.
TK-5 Instructional Coach
California, United States
Greta Sandler
Educator/Trainer
Argentina
Gwynn Moore
Instructional Media/Technology/CTE-STEM Teacher
Colorado, United States
Hue-An Wren, Ph.D.
Teacher on Special Assignment
California, United States
Jackie Patanio
Director of Citywide Ed Tech
New York, United States
Jacqueline Liesch, M.L.I.S.
Information Specialist
South Carolina, United States
Jaime Higgens
Teacher, School Technology Coordinator, Math SBTL
Pennsylvania, United States
James Allen
Statewide School Library Lead & Digital Learning Coach
Kentucky, United States
Jason Gay
Media Specialist
Kentucky, United States
Jason Trinh
Coordinator
Canada
Jeff Bradbury
Lead Instructional Coach for Digital Learning
Connecticut, United States
Jeff Kilner, M.Ed.
Instructional Technology Specialist
Delaware, United States
Jennifer Casa-Todd, M.Ed.
Teacher-Librarian
Ontario, Canada
Jennifer Chance Cook
Instructional Technology Specialist
Indiana, United States
Jennifer Freedman
Coordinator of Instructional Technology & Library Media Specialists
New York, United States
Jennifer Hencken, M.S.Ed.L
Educational Technology Specialist
Florida, United States
Jennifer Higdon, M.Ed
Instructional Designer and Technologist II and Adjunct Professor
South Carolina, United States
Jesse Erickson, Ed.S.
District Assessment Coordinator/Tech Integrationist
North Dakota, United States
Jessica Pack
Middle School Teacher
California, United States
Joan McGettigan, Ed.D.
Director of Instructional Technology
Connecticut, United States
Jodi Johnson
Instructional Technology Coordinator
Minnesota, United States
John Heffernan
Technology Enhanced Learning Co-ordinator
Ireland
John Padula
Technology Integration Specialist
Massachusetts, United States
Joseph Noel, Pj.D.
STEAM Advocate/Department Chair
Florida, United States
Judy Nguyen, M.Div.
Teaching & Learning Consultant
California, United States
Julie Jaeger, M.Ed.
Veteran Educator, Professional Coach and Consultant
North Dakota, United States
Julie Johnson
Assistive Technology Specialist and Vision Instructional Specialist
Missouri, United States
Kathryn Nieves, Ed.D.
Teacher/Coordinator of Educational Technology Integration
New Jersey, United States
Kaylah Holland, Ed.D.
Director of Instructional Technology & Blended Learning
South Carolina, United States
Ken Scymon Montalba, R.Ch.
Upper School Teacher and Middle School Science Coordinator
Philippines
Ken Zimmerman
Associate Program Director of Educational Technology & Innovation
Pennsylvania, United States
Kendre Perry, M.Ed.
6-8 STEM Specialist
Ohio, United States
Kerry Parrish
Visual Arts Educator and Instructional Coach
Illinois, United States
Kia Angeles
Technology Learning Coach
Philippines
Kimberly Carlson
Innovation Specialist
Ohio, United States
Kristen Brooks
Technology Specialist
Georgia, United States
Lakisha Brinson, Ed.D.
Director of Instructional Technology
Tennessee, United States
Laura Thomas
Core Faculty; Director, Experienced Educators Program
New Hampshire, United States
Laurel Aguilar-Kirchhoff
ISTE Author, Consultant, Educator
California, United States
Laurie Guyon
Coordinator for Model Schools
New York, United States
Leah Obach, M.Ed.
Literacy with ICT Teacher Leader & Co-Founder of KG Education
Manitoba, Canada
Lee Howell, M.Ed.
Coordinator, Digital Learning
Texas, United States
LeeAnn Lindsey, Ed.D.
Managing Partner & Dig Cit Doctor
Arizona, United States
Leslie Fagin
Instructional Technology Coach
Georgia, United States
Lisa Whiteside
Technology Integration Specialist
Michigan, United States
Maggie Pickett, MA, CCC-SLP
Educator
Iowa, United States
Margo Martin, M.A.T., M.A., M.Ed
Director of Learning
France
Mario Herraez Velazquez
EdTech Consultant
Spain
Mary Townsend, Ed.D.
High School Teacher
Minnesota, United States
Matthew Ketchum, M.Ed.
Director III Educational Technology
California, United States
Matthew Winters
Sr. Technical Trainer
Utah, United States
Megan Endicott, Ed.S.
Assistant Principal
Georgia, United States
Megan Hildebrand
Instructional Technology Coach/Director
Wisconsin, United States
Melinda Kolk
Editor, Creative Educator and Owner, Tech4Learning, Inc.
California, United States
Michael Harvey, Ph.D.
Innovative Teaching Lead
New Zealand
Michele Eaton, M.Ed.
Director of Warren Online Academy
Indiana, United States
Michelle Arbogast, Ph.D.
Chair, Teacher Education and Human Services
Ohio, United States
Michelle Bakerson, Ph.D.
Associate Professor
Indiana, United States
Michelle Eckler, Ed.D.
Supervisor of Technology for Teaching and Learning
Connecticut, United States
Michelle Palmieri, M.Ed.
Technology Integration Teacher
New York, United States
Michelle Phillips
Instructional Technology Coordinator
Texas, United States
Michelle Wendt
Technology Integration Specialist
New Jersey, United States
Nancy Jo Lambert, M.L.S.
Librarian
Texas, United States
Nanette Jones
Teacher
Louisiana, United States
Nicole Zumpano
Director of Instructional Technology Coaching
Illinois, United States
Olga Kazarina
EdTech Coach
Chile
Patricia Ferris, M.Ed.
Instructional Technology Coach
Illinois, United States
Pattie Morales, M.Ed., M.S., CETL
Instructional Technology Specialist
Wisconsin, United States
Peter Hessling, Ph.D.
Teaching Assistant Professor
North Carolina, United States
Priscila Miller
Technology Integration Specialist
Michigan, United States
Rachelle Dene Poth, M.Ed., J.D.
Spanish and STEAM Teacher, Consultant
Pennsylvania, United States
Rita Mortenson
Educational Technology Coach
Wisconsin, United States
Rhonda Blevins, Ed.D.
Assistant Professor of Education and Director of Job-Embedded Practitioner Program
Tennessee, United States
Rushton Hurley
Executive Director
California, United States
Samantha Duchscherer, Ed.D
PLTW Grant Coordinator
Arkansas, United States
Saul Duarte, Ph.D.
Instructional Technology Facilitator
California, United States
Sawsan Jaber, Ph.D., NBCT
Teacher Leader/Consultant
Illinois, United States
Scott McLeod, J.D., Ph.D.
Professor, Educational Leadership; Founding Director, CASTLE
Colorado, United States
Sean Arnold, M.Ed.
Director of School Pathways, Computer Science
New York, United States
Shahinaz Bashir, Ed.D.
E-learning Consultant
Sudan
Sherry Jones
Philosophy and Game Studies Subject Matter Expert
Colorado, United States
Sonia Masmoudi, M.Ed.
Emeritus Principal Professor
Tunisia
Stacy Hawthorne, Ed.D.
Education Strategist
Nevada, United States
Stephanie Howell
Instructional Technology Coach
Ohio, United States
Sushil Upreti, M.Phil, Masters in Information Technology
eSTEAM Coach
Nepal
Tara Linney
EdTech Specialist
Washington DC, United States
Tawanda Brown
Math Teacher
Georgia, United States
Terrie Carter, Ph.D.
Executive Director, Education Programs
Maryland, United States
Therese Phillips
Director of Human Resources
California, United States
Tim Needles
Art teacher/Edtech coach
New York, United States
Tricia Umhafer
Curriculum Specialist
New York, United States
Victoria Adams
PYP Teacher
Dubai, UAE
Victoria Thompson
Education Industry Executive, K-12
Florida, United States