March 16, 2015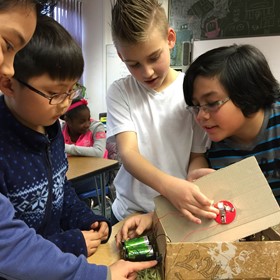 When it comes to project-based learning, not all potential projects are created equal.
Strong projects share specific traits that up the learning ante, assure student engagement and may even extend the learning outside the classroom.  
When selecting PBL projects, look for activities that aren't overly scripted and that allow you and your students to maneuver as needed once the project is underway. Review project guidelines to ensure they allow for both up-front thinking and room to respond to questions. Seek out projects that include opportunities to adapt in the moment. And, since time is your biggest resource, be sure to select a project that you feel is the very best use of students' time.
" "In general, if projects look cookie cutter and you're asked to follow a series of steps that don't seem to add up to something of value and don't allow for student voice and choice, or the artifacts are thin and prescribed, these are indicators of bad projects," " said Suzie Boss, co-author of Project-Based Learning: Your Field Guide to Real-World Projects in the Digital Age with Jane Krauss.
" "Look for real-world connections and projects that can draw in subject-matter experts," " Krauss added. " "The nature of the investigation shouldn't be too schooly." "
Last week, we asked our social media followers to share their favorite PBL projects. Here are some of their best, in no particular order:  
1. Kids as Tour Guides: Integrating Student-Created Media into History Class
This historical geography project has high school students create video tourism commercials for 17th century North American colonies based on research into their leadership, religion, economy, climate and culture. Students use persuasive writing techniques they learned in language arts to develop their scripts and then create their commercials in iMovie. They upload their final videos to the teacher's YouTube channel and watch them all at a viewing party.
—Kerry Gallagher, educator and owner of Kerry Gallagher Educational Services in Wilbraham, Massachusetts
2. Salisbury's Technology Outreach for Reading to our Youth (S.T.O.R.Y.)
This recent startup project uses augmented reality applications, such as Aurasma, combined with student-designed replications of children's stories to increase reading appreciation among elementary English language learners and create excitement about device-based reading. High schoolers rewrite popular stories to appeal to elementary learners and then develop animation sequences using Keynote, Illustrator or PowToon to convert them to movies. Finally, they upload their rewritten books and animations to iBooks.
—Kelly Wetherhold, English/communications teacher at Salisbury High School in Allentown, Pennsylvania; adjunct faculty for Seton Hall University; educational consultant with the Center for Integrated Behavioral Health in Bethlehem, Pennsylvania; and founder of TEDxSalisburyHighSchool
3. Video game design
Fifth grade students learn the basics of economics and business by creating and operating their own video game companies. Teams of four students choose a vice president, chief financial officer, marketing director and game designer. Each team is charged with operating a company and creating a working game using Pixel Press Floors. Once complete, all students visit an " "arcade" " where they can use tablets to test the games. Students also track earnings, expenditures and profit margins and reflect on their business models and leadership approaches.
—Lucas Steier and Alexandra Young, teachers, Centennial Elementary, Fargo, North Dakota
This project for second graders is based on the idea that community members have a responsibility to give back to that community. Students work together to create an organization that serves their community and takes action on a specific need. Then they create a fictional story that shares their passion for the need they are addressing.
—Jeff Horwitz, director of academics and student services, Chesterfield Day School, Chesterfield, Missouri

5. Light house
Fourth graders work in small groups to build a two-story model home from materials of their choice. The house must include a doorbell with a switch, a light on the first and second floors, and an off/on switch, and it must be wired in a parallel circuit. Students work with allotted play money to purchase the items they need and create a spreadsheet to track their purchases and balances. They then replicate their model homes in MinecraftEDU.
—Xavier Flores, math and science teacher, Vogelweh Elementary, Kaiserslautern, Germany
Photo credit: Xavier Flores